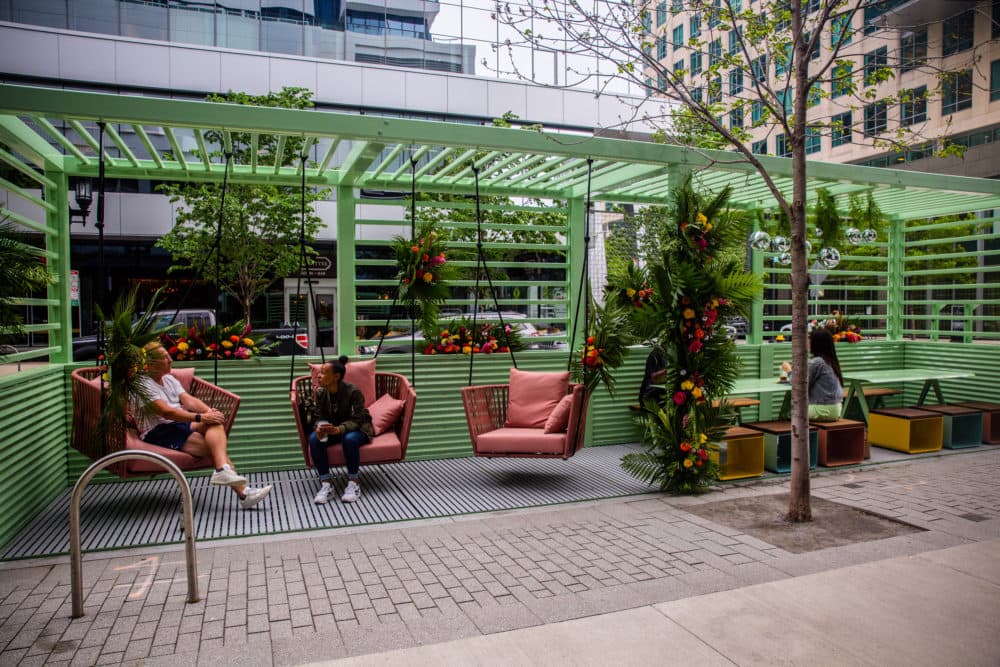 'We'll Watch Your Dog': Boston Owners and Politicians Seek Ways to Attract Workers to the City
Roxana Chiu, who manages shared office space in Boston, says Back Bay's prime location was enough to attract potential tenants.
But since the pandemic, Chiu has discovered that she has to offer new attractions. This includes a bicycle storage room, an interior garden and a renovated kitchen.
She went so far as to let people bring their dogs to work.
"We even tell them, 'If you have to go out for a meeting for an hour or two, we'll watch your dog,' said Chiu, co-founder of SnapSuites. "Dog sitting – that's something we can do too."
After more than a year of working remotely, many companies have found that their employees can be productive anywhere. And many workers don't want to go back to the daily grind of commuting downtown.
This leads some to wonder if expensive and congested cities like Boston are still worth it. And it's spawned creative efforts – from pet care to vibrant art shows – to draw people in.
Chiu's goal is to make the SnapSuites office feel more like home, because that's where a lot of people have felt comfortable working. Some tenants are renting less space, but others are signing new leases, including a biotech company that recently signed on for a 7-year term.
"Everything during the pandemic, the negotiations were much more difficult," Chiu said. "Not so much the price. I think that was all the uncertainty. It's hard to predict where we'll be in 6 months or a year."
A popular assumption is that many businesses will have a mix of employees working from home and in an office.
That's what Artaic CEO Ted Acworth is waiting for. His company uses robots to make large mosaics and was part of a commercial boom in Boston's Seaport District. The pandemic prompted him to ask, "Does it even make sense to stay near the city?"
Artaic eventually left the port but remained in Boston. With many businesses reconsidering the city's worth, Acworth says he's got a good deal in Charlestown.
"We knew that during the pandemic, commercial leasing is a very favorable market for businesses looking for leases," he said. "So, we just seized the moment."
More than a third of Massachusetts businesses could reduce their office space as the pandemic eases, according to a recent survey by the Massachusetts Competitive Partnership.
Keeping business in Boston is a declared priority for the city's top five mayoral candidates. John Barros, Boston's former chief economic development officer, fears business tax revenues will decline if city leaders do not act.
"This is going to put the burden on the residential tax base, and you will see an increase in the residential tax," Barros said. "This is a big, big deal for our city and something we should take very seriously."
A property tax increase would give residents another reason to look at the suburbs. City councilor Annissa Essaibi-George, another mayoral candidate, said the city should consider supporting bars, restaurants and cafes – amenities that could make people want to live and work here.
"There might be some grants that we need to give – just pure money – to these companies to help them get through what will likely be a full year of recovery," she said.
Barros and some other candidates also say cash assistance may be needed.
And if the beer money doesn't do the trick, maybe a giant rainbow squirrel or 2,000 flamingos will. These are not invasive species, but rather two examples of public art installations brought to Boston by WS Development, which owns 3.8 million square feet of commercial and residential real estate in the Seaport.
Adding sculptures may seem like a small thing, but Vice President Todd Norley says it's one way his business is trying to make the neighborhood feel magnetic.
"I can't think of a better example than a beautiful work of art," he said. "Having that as the centerpiece of a neighborhood really helps identify the place and give off that vibe – and amplifies it, in a way."
Norley says the idea is to make people and businesses want to be in Boston, even if they don't have to.