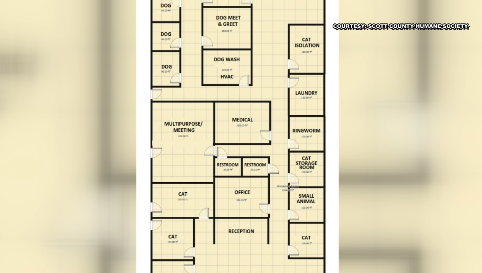 UPDATE: Scott County Humane Society Fundraiser to Build New Adoption Center
The Humane Society has raised nearly $ 135,000 of its goal of $ 675,000 so far.
UPDATE: LEXINGTON, Ky. (WTVQ) – Scott County Humane Society board chair Kristen Lowry said plans for a new adoption center have been in the works for 4 to 5 years.
"We are desperate for this, every day we have a problem and we say well, if we had our new facility it wouldn't be a problem," said board chair Kristen Lowry.
The Humane Society operates as a reception program, taking animals from the local animal shelter and finding temporary homes for them, but Lowry says the 1,700 square foot space they have worked with is not enough.
"Right now we're on Indian Acres, it's a mall. If we have a dog there and we want to take him to the bathroom, we have to walk him on the track, you know, in the parking lot. We have nowhere to go, we have nowhere to keep the dogs, even temporarily, "Lowry said.
The new 5,000 square foot adoption center would serve as a meeting and reception center for those who wish to adopt.
It would have separate reception rooms for cats and dogs, isolation areas for the first incoming animals, in case they get sick, a meeting room for advice, storage areas and more.
And, now that the land on Lexington Road in Georgetown has been purchased with money from two donors … reaching their fundraising goal is the next step.
The Humane Society has raised nearly $ 135,000 of its goal of $ 675,000 so far.
"We have a pledge, an anonymous donor who will pledge up to $ 100,000 right now as matching funds for other donations. So that's why we're really trying to plug in here, you know, towards the end of the year it's giving season. So really try to get bigger donations to match that. So if we can match that with donations of $ 5,000 or $ 10,000, we would have $ 200,000 and we would be over half of our fundraising goal, "Lowry said.
The hope is that construction will start next summer and be completed by this time next year.
"An adoption center that would just support our families, support our efforts is just essential to us," Lowry said.
You will find information on how to donate here.
——-
GEORGETOWN, Ky. (WTVQ / Press Release) – Thanks to a donation from a supporter, the Scott County Humane Society (SCHS) purchased 4.5 acres of land in Georgetown to build a new adoption and adoption center. 5,000 square foot education.
The space at the facility will allow for more housing for adoptable cats and dogs, meeting and welcoming rooms for adopters to meet their new pets, a room to isolate sick animals while they are heal, a large community room for animal ownership education as well as washing, grooming and laundry. areas.
"This adoption center has been slow to arrive," said Kriss Lowry, chairman of the board of the Scott County Humane Society. "Thanks to a very kind supporter, we bought the land and the development plans were approved. It is time for all of us to make this a reality for homeless and needy animals. We ask for help from our generous community.
The SCHS is launching a public campaign asking the community for help so that construction can begin. To support the project, click on here for more details.