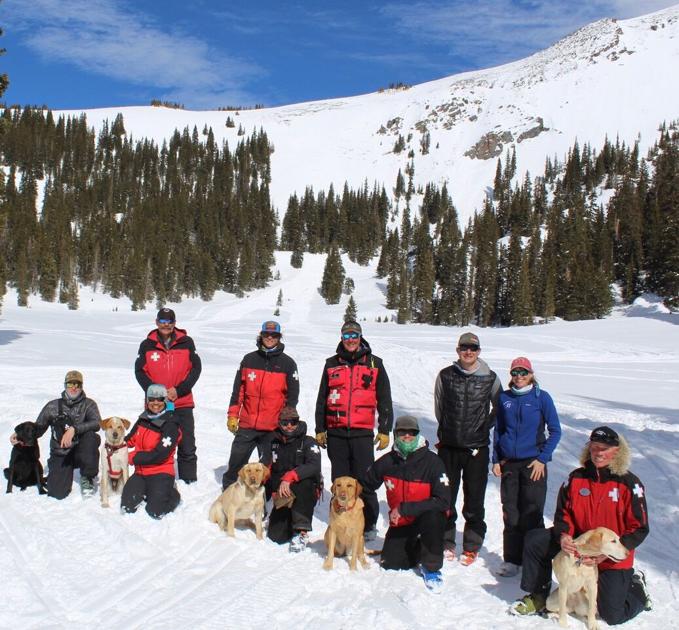 Pack prepared | News | telluridenews.com
The mountain is getting ready for ski season, as are the pack of Telluride Avalanche Dogs (TAD). Six dogs have run the mountain in the past two years, including Quill, Lady Bee, Sadie, Mona, Stella and Wiley.
The first avalanche dog to roam the hill – a yellow lab named Lady Jane Daiquiri Watenpaws – was in 1986. Lady Jane's owner and handler was Gary Richard, who helped start the TAD program in 2012, along with his wife Kim and other ski patrol drivers. . The organization was certified and recognized as a non-profit organization in 2014.
Kim explained that they had started to continue the avalanche rescue dog program "for the safety and the community".
"Since we started the program it has been getting better and better," she said.
The program is always looking for ways to improve. In 2019-2020, a new training tool was put in place.
"The device allows us to create dog holes using a large tube that inflates, then is buried, then deflated. It leaves a hole in the snow that is used for mock avalanche scenarios." Kim explained in a recent TAD newsletter.
During the 2019-2020 ski season, the dogs worked alongside the Telluride Ski Patrol just like any other year. However, due to the pandemic, the Ski Patrol had to do some things differently.
"Ski patrollers weren't allowed in the cabins unless we were staggered," Kim said.
Typically, skiers are allowed to visit dogs in ski patrol cabins and offices, but that was not the case during the pandemic. Educational activities and demonstrations with dogs have also been canceled. It was unfortunate, Kim explained, because the dogs act as a bridge between skiers and mountain safety.
"Everyone loves dogs and that opens the door to education," she said.
Ski patrollers use the dogs to teach children, visitors and community members about avalanche safety. People come to see the dogs and leave with a better understanding of the mountain.
"If a child is scared he can come in and warm up in the patrol station, and all dogs will be comfortable with him. They are just great to have in general," said Scott Pittenger, director of the Telski mountain. operations.
The pandemic also caused the Telluride Avalanche Dog Donation Pass to be briefly interrupted. With a $ 20 donation, people can receive a personalized pet pass, although it doesn't necessarily provide elevator access.
"It goes to a very good cause. These dogs save lives. They are an important part of the ski patrol and are considered part of our team, "said Pittenger.
The pass program money and other donations go towards vet bills, food, year round care, and provide funds for the dog even after retirement from the program. Kim recalled a case where a dog blew his knee and the operation cost about $ 20,000.
Currently, five dogs are actively participating in the program. In the past few years there have been six, but Wiley, a 14-year-old yellow lab, recently retired. Kim has hinted that a new dog could join the team this year.
Obedience is one of the most important skills a dog can learn in the Avalanche Dog Program, Kim explained.
"The obedience piece is key. If they don't have it, it kind of starts to unravel because you need to be able to control your dog with or without a leash. They fly in a helicopter and need to be able to. load in and out of the helicopter, and a lot of times they're just using hand signals, "she said.
While dogs are friendly and appreciate love and care, they have a job to do on the mountain. Dogs play a vital role in safety on and off the slopes. Once dogs have undergone extensive training and developed their skills, they can help in various types of search and rescue situations.
"Sometimes people get lost in the backcountry, and the dogs search there, and they've been called in to search the river as well," Kim said.
However, most of the time dogs work in the mountains. Currently, Telski and the ski patrol are carrying out avalanche mitigation measures. Pittenger advised people to stay off the mountain so snow cannons don't have to worry about people walking around unseen.
Next week Kim and Lady Bee, who belong to the Richards, will join the ski patrollers already working on the mountain. Dogs and handlers are delighted to finally start the ski season.
Kim's ideal expectations for the season are to have a "healthy dog ​​fleet."
"I hope they don't have to go out and find someone buried in an avalanche," she said. "But if they do, and if we have a bad winter, they'll be ready and able to go with a hat-trick."
For more information on the Telluride Avalanche Dog Donation Program and Pass, visit tellurideavalanchedogs.org.